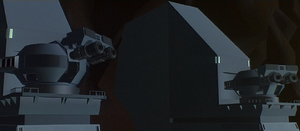 The Automatic Repulsor Guns are apart of Starfighter Command defense system.
Starfighter Command
is equipped with Automatic Repulsor Guns as a part of it's defense network. Unfortunately, the
Rylan Bursar
, who was also a Xurian spy placed a bomb on one of the computers that were key to controling and operating them, and they were quickly taken offline allowing
Xur
's
meteor guns
to destroy the base.