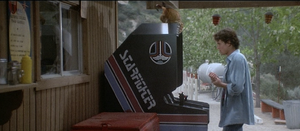 Alexander "Alex" Rogan, the title character of The Last Starfighter, was a high school senior living in the Starlite Starbrite trailer park.
Lance Guest acted out the roles of both Alexander Rogan and his android surrogate, "Beta."
Alex would often spend much of his free time helping fix things around the trailer park for his mother, Jane Rogan, who is the manager. To escape the daily routine, Alex often went over to the local store to play on the Starfighter Game.
Alex dreamed of going to college, but he was unable to obtain the loan that he needed to do so. Fortunately, opportunity knocked when he broke the record on the Starfighter machine and is later visited by an alien named Centauri. Centauri takes him to the planet Rylos where he becomes a real Starfighter.
Alex has a girlfriend, Maggie. She carried a great deal for Alex but is concerned about the future of their relationship because his desire to go off to college. At first she's afraid to leave home, partially because of her grandmother. In the end however, she takes him up on his invitation to go with him back to Rylos.
Alex has a little brother named Louis Rogan.
Alex only ever mentions his father once in the film, when he shows Grig a photo of himself and the rest of his family standing together.